The Australian porn industry is not particularly large. Indeed, there are only a couple of companies actively creating adult films. The restrictive conservative atmosphere of the last two decades probably hasn't helped, nor have the outdated censorship rules. The internet has, however, allowed some Australian companies to create their own brand of Aussie porn on the web, ironically becoming successful via their popularity in the US.
Websites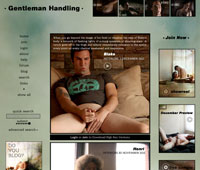 Gentleman Handling
Australian filmmakers and performers Gala Vanting and Aven Frey have created a site devoted to masculinity. Gentleman Handling features hot guys masturbating as well as male-male pairings. The site aims to celebrate the diversity of male bodies and to personalise the performers, putting them into their own surroundings to better create a positive scene. "GentlemanHandling attempts to strip the image of male sexual pleasure from its less-than-savoury pornographic contexts and situate it in a style of imagemaking that is honest, attentive, and reverent."
Click here to find out more about Gentleman Handling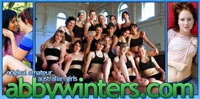 Abby Winters
Billed as "righteous, guilt-free porn", Abby Winters features a plethora of Australian women getting naked, masturbating and engaging in lesbian encounters. The models come in all shapes and sizes and the site boasts that there's no make-up, no silicone boobs and no airbrushing. Each model is given a profile so that you can get to know the girl you're watching and the focus is always on realistic and respectful representations. While this isn't a site aimed at straight women per se, I do like it because of their healthy pro-sex attitude, something that's missing in the vast majority of porn sites out there. And it's nice to hear an Australian accent too.
Click here to find out more about Abby Winters.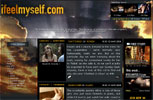 I Feel Myself
This Australian-owned site aims to celebrate the female orgasm. It does this by featuring self-shot photos and video of women masturbating in a variety of locations. On top of this there are DIY sessions featuring the model and her friends or lovers - male and female - as well as revealing interviews where they talk about themselves and their sexuality. Once again there's an atmosphere of respect and positivity that's refreshing. The models are all amateur but they're not restricted to Australian citizens - the girls on IFM come from all over the world.
Click here to find out more about I Feel Myself.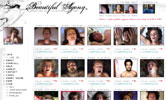 Beautiful Agony
This is a very different type of porn site. You won't find any nudity here, even though the models are having gasping, earth-shattering orgasms. The camera focuses on the face as each man or woman masturbates to climax. This unique idea brings a whole new perspective to porn, not to mention a much-needed humanising quality. Faces are a mirror for emotion and thought, and to watch a face mid-orgasm is fascinating. Once again this is an Australian site, brought to you by the same company behind I Feel Myself.
Click here to find out more about Beautiful Agony.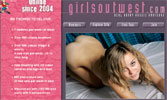 Girls Out West
Owned and operated by women, Girls Out West offers amateur Australian women in solo masturbation and girl-girl scenarios, with a bit of kink thrown in. Online since 2004, they now boast over 50,000 photos and 350 videos. All scenes are shot by the two women who run the site with two cameras and they've recently moved over to high definition. There's also profiles and message boards in the members area.
Click here to find out more about Girls Out West
You might also want to check out:
Adult Voyeur
Queensland Girls
Movies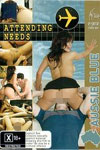 Attending Needs
Official Blurb: When two Aussie flight attendants get back home they do much more than put up their feet and bathe in the Aussie sun. The girls share a beautiful home on the seaside, and when they are there they enjoy every moment with friends, lovers, each other and even steal a moment with a stranger. These girls make sure that all their needs are attended to, before they fly away again. The Aussie Blue Collection gives you an idea of what the Aussie woman and man does to attend to those desires which we want and enjoy. Erotic moments, sexy play and naughty encounters
Available from: Uncut DVDs, Funtasia
Other Expose Production Films, also available from Uncut DVDs:
* Going Bush
* Country Service
* Taped Evidence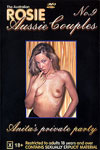 Rosie Aussie Couples is an Australian based amateur hardcore series of films featuring couples going at it in various locations. Nothing too arty about this stuff - it's basically full-on gonzo porn starring amateur exhibitionists. At last count they were up to number 13 in the series, so it must be relatively popular. They also have a number of UK and Euro special editions. If you're into out-and-out hardcore, this might appeal, especially as the stars are less likely to be silicon-enhanced.
I chose this boxcover because it's very tame :)
Available from: Uncut DVDs